Today, I'm sharing the areas of the first floor where my parents live out their more private lives. This part of the home is absolutely stunning in functionality and design.
Their bedroom--where my mom is sticking with the black and gold tones of their previous home.
Their master bathroom suite is absolutely amazing. Here who can see "Her" side of the bathroom and the large tub in the middle.
Here is a glimpse of "His" side as well as the window seats...and another view of their fabulous bathtub.
Dad's closet also serves as a kennel. :) The dogs even have a TV. This area was originally meant for a treadmill or exercise bike, but the dogs fit perfectly. Notice what it feels like to have nothing to move...not even clothes.
Mom's closet has a vanity and a three way mirror. Such a fabulous closet for any woman!
Unfortunately, the dogs are smart enough to figure out how to open the plantation shutters to see out. My mom's closet is at the front of the house, so hopefully she can avoid too many embarrassing moments when neighbors walk by!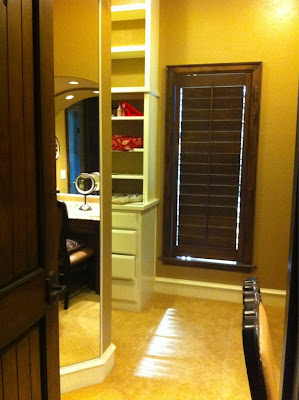 My dad spends plenty of time in his front office. It's his hideaway and a very comfy one at that.
This essentially finishes the ground floor (minus the laundry room, entry hall, and other bathrooms). My parents have commented over and over again about how livable their new open floor plan is. I think it's gorgeous!